Ylang Ylang essential oil is derived from the star-shaped flowers of the tropical Ylang Ylang tree and is used extensively in making perfumes and in aromatherapy.
Ylang Ylang is known and valued for its ability to soothe and calm the mood while also providing an uplifting effect.
In one of doTERRA's Co-Impact Sourcing® locations, the Ylang Ylang flower is harvested by some of the hard working natives of Madagascar to produce doTERRA's potent Ylang Ylang essential oil.
---
New here?  You might also be interested in reading our FREE guide:
USING ESSENTIAL OILS IN YOUR NEURODIVERSE HOME
Including the following chapters:
1: A Basic Introduction to Essential Oils
2: How Essential Oils Support Neurodivergent People
3: The Essential Oils to Use and Why
4: How to Purchase Essential Oils + What to Buy
---
The Ylang Ylang flower has been used for centuries in perfumes, religious ceremonies, aromatherapy, and wedding events, and the essential oil produced from this blossom is just as versatile.
It is available in a 15ml bottle with dripolator for everyday use. Ylang Ylang essential oil can be used aromatically, or topically with a carrier oil. It blends well with Bergamot, Geranium, Grapefruit, and Vetiver.
Chemistry of Ylang Ylang Oil
Main Chemical Components: Germacrene, caryophyllene
Two of the main chemical constituents of Ylang Ylang essential oil are caryophyllene and germacrene. These two chemical components are part of the sesquiterpenes group. Ylang Ylang's unique chemistry and scent promotes soothing feelings when used aromatically.
---
What kind of support should I expect from Ylang Ylang essential oil?
We here at Support Essentials have tagged it with the following support categories for use in your special needs home:
Calming & Grounding – Ylang Ylang provides an uplifting aroma while promoting a sense of calmness when diffused.
Mood Management – In aromatherapy, Ylang Ylang is used to promote emotional wellbeing.
---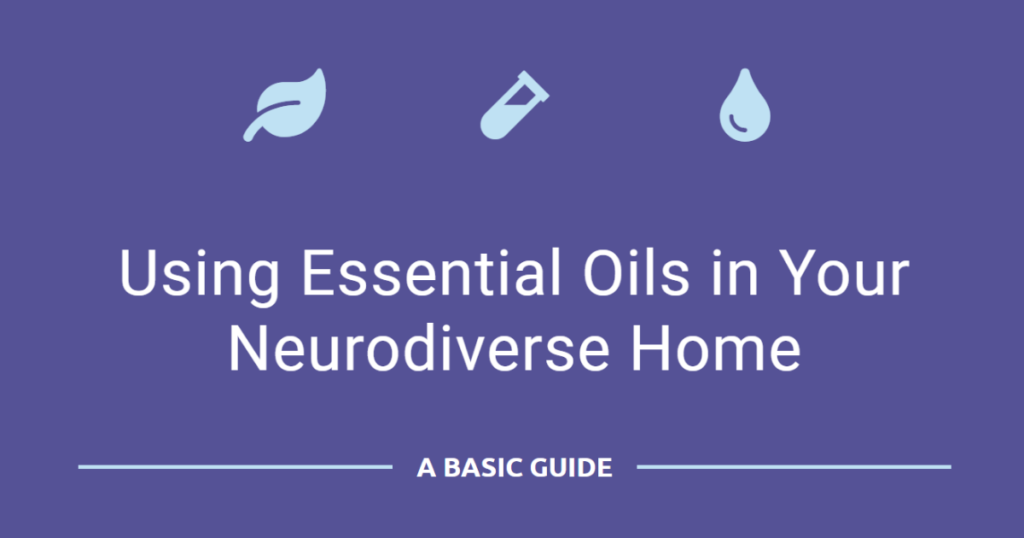 Want to get started using essential oils in your home? Read our FREE guide!
---
How do I use it?
Essential oils can be used topically (on the skin) or aromatically (inhaled through the nose). Here are some suggestions for how you can use Ylang Ylang essential oil in your special needs home:
Aromatically
Diffuse it with an essential oil diffuser or diffuser jewellery. This rich aroma will not just smell good, it will also lift your mood and promote a calming effect.
Add it to liquid hand soap, shampoo or bodywash so your child can inhale it while they wash their hands or have a bath/shower.
Add a few drops to your child's shirt collar so they can inhale it throughout the day.
Topically
Add a couple of drops to a teaspoon of carrier oil and rub on the bottom of your child's feet or the back of their neck.
Add a couple of drops to a teaspoon of carrier oil and mix with water beads, shaving cream or play-dough for aromatic sensory play.
Make up a roller bottle or spritzer bottle and apply to wrists or down the spine for a sweet, floral DIY perfume.
For an ultimate bath experience, put Ylang Ylang essential oil mixed with Fractionated Coconut Oil into an Epsom salt bath.
Ylang Ylang Diffuser Blends
Try these diffuser blends using Ylang Ylang essential oil.
Ylang Ylang Info Graphic
Keep all of our information about Ylang Ylang essential oil close by with this handy info graphic you can pin to your Pinterest account.
---
Have you checked out our printable doTERRA essential oils blend index yet >>> FREE doTERRA Blend Index
---
Using Essential Oils in Your Neurodiverse Home >>> FREE GUIDE