If you've already done a little research on essential oils for Autism and other neurodiverse conditions, you have probably discovered that 'DDR Prime' is recommended over and over again by parents and carers of neurodivergent children.
So today we're taking a look at doTERRA's DDR Prime Cellular Complex essential oil blend and how to use it in your neurodiverse home.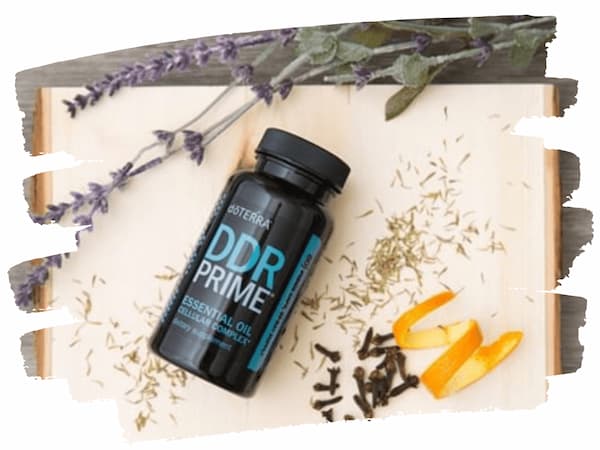 DDR Prime Cellular Complex is a blend of essential oils created and manufactured by doTERRA.
It is available in a 15ml bottle with dripolator for everyday use (selected markets only), or in supplement form as a vegetarian softgel (each pill contains four drops of the essential oil blend).
DDR Prime can be used aromatically, or topically with a carrier oil.
There are different DDR Prime products available to different markets. In Australia, you can purchase the softgels from the Australian Warehouse, or the 15ml bottle with dripolator from the US Warehouse (and have it shipped to you in Australia).
doTERRA DDR Prime Ingredients
Frankincense Essential Oil – Steam distilled from the resin of the Boswellia tree. When inhaled or diffused, Frankincense promotes feelings of peace, relaxation, satisfaction, and overall spiritual and emotional wellness.
Wild Orange Essential Oil – Cold pressed from the rind of the Orange fruit. High in monoterpenes, Wild Orange possesses a stimulating and uplifting aroma, which is invigorating and supportive to emotional well-being.
Litsea Essential Oil – Steam distilled from the fruit of the May Chang tree. Native to south-eastern Asia, Litsea essential oil is used in aromatherapy and meditation for balance and inspiration.
Thyme Essential Oil – Steam distilled from the leaf of the Thyme plant. Thyme essential oil is a powerful antioxidant.
Clove Essential Oil – Steam distilled form the bud of the Clove plant. Its main chemical component, eugenol, makes it a very stimulating and energising essential oil.
Summer Savory Essential Oil – Steam distilled from the leaves of the Summer Savory plant. Summer savory is best known for its culinary uses, but it also offers support to a myriad of body systems.
Niaouli Essential Oil – Steam distilled from the leaves of the broad-leaved paper bark tree. Native to Australia, New Caledonia and French Polynesia, and belonging to the same family and genus (Melaleuca) as Tea Tree essential oil, Niaouli essential oil is known for its cleansing and refreshing qualities.
Lemongrass Essential Oil – Steam distilled from the leaf of the Lemongrass plant. In addition to its unique flavour, Lemongrass essential oil promotes an overall sense of emotional and spiritual wellbeing.
---
DDR Prime Benefits
doTERRA's DDR Prime Cellular Complex contains ingredients traditionally used in Western herbal medicine to maintain and support general health a wellbeing.
Primary benefits also include:
• Improving and promoting a healthy appetite
• Decreasing or relieving wind/gas pain, flatulence and abdominal spasm
• Decreasing or relieving symptoms of indigestion
• Reducing the occurrence of nausea and vomiting
• Decreasing or relieving mild bronchial irritation
• Clearing respiratory tract mucous
I've also tagged it with the following essential oil support categories for neurodiversity to show how DDR Prime can best support you and your neurodiverse home:
✅ Calming & Grounding – Apply daily down the spine with a carrier oil every night before bed.

✅ Rest & Relaxation – Combine with a carrier oil for a soothing topical massage.
✅ Mood Management – Add to homemade bath bombs or bath salts and use weekly in the bath.

✅ Staying Focussed – Diffuse with a drop of Peppermint essential oil while children are completing homework to help with grounding and focus.

The reason why DDR Prime comes so highly recommended for neurodivergent children is because it offers support in all four key support categories.
Why you should use DDR Prime differently to other essential oil blends.
DDR Prime is a unique essential oil blend, and as such it is also unique in the way it should be used for the utmost benefit.
Most of the time, when you diffuse or topically apply an essential oil, you expect localised and immediate effects (e.g. falling asleep, or calming an agitated state, or increased focus for the task at hand etc).
However the benefits and effects of DDR Prime may not always be immediately felt.
Though the support will immediately start to begin, you may not see it.
This is why DDR Prime should be used daily and consistently and then, over a period of time, you should expect to see incremental improvements.
It's a marathon, not a sprint.
Apply DDR Prime on a daily basis, and look for overall improvements in these areas after one month of consistent use.
How to use doTERRA DDR Prime
Essential oils can be used topically (on the skin) or aromatically (inhaled through the nose).
If your DDR Prime is in softgel form, then you can pierce open a softgel using a toothpick or skewer and press out the four drops of oil inside to use topically or aromatically.
Here are some suggestions for how you can use doTERRA's DDR Prime Cellular Complex in your neurodiverse home:
Aromatically
Diffuse it with an essential oil diffuser or diffuser jewellery.
Diffuse with a drop of Peppermint essential oil while children are completing homework to help with grounding and focus.
Add it to liquid hand soap, shampoo or bodywash so your child can inhale it while they wash their hands or have a bath/shower.
Add a few drops to your child's shirt collar so they can inhale it throughout the day.
Make your own DDR Prime soap bars using melt and pour soap
Topically
Make up a roller bottle or spritzer bottle and apply daily to bottoms of feet or down the spine. You can find full instructions on how to do this in my article on essential oil topical use.
Add a couple of drops to a teaspoon of carrier oil and mix with water beads, shaving cream or play-dough for aromatic sensory play.
Use this blend in the bath by adding it to your favourite bubble bath or bath salts.
doTERRA DDR Prime Info Graphic
Keep all of our information about doTERRA's DDR Prime close with this handy info graphic.
Plus you can download our printable PDF by clicking the button below.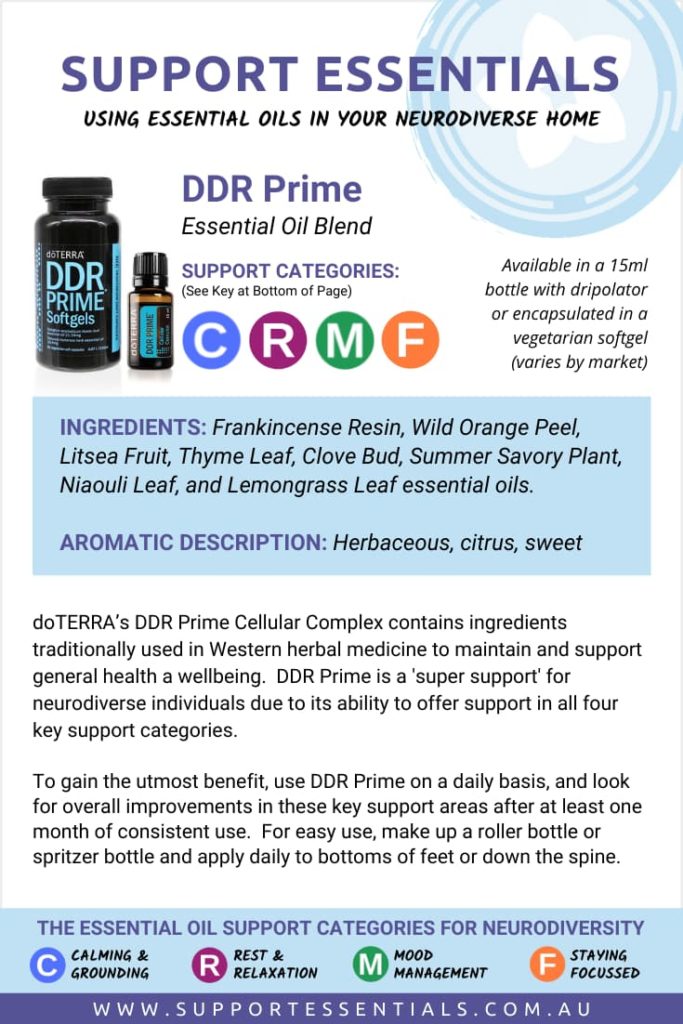 How to buy doTERRA DDR Prime Essential Oil Blend
As a doTERRA Wellness Advocate and agent, you can purchase doTERRA essential oils from Support Essentials.
doTERRA essential oils purchased from Support Essentials ship directly from doTERRA to any country where doTERRA operates.
Visit the Support Essentials doTERRA online store and select SHOP from the menu. You will need to select your language and country to start shopping.
Use the search function to find 'DDR Prime' or browse Home / Supplements / Specialised Wellness Supplements.
Not all countries have both the DDR Prime Softgels or the DDR Prime 15ml Essential Oil blend available to ship locally, it may be one or the other.
You may be able to purchase the alternative product directly from the doTERRA USA warehouse. Choose the following option when prompted to purchase DDR Prime direct from the US where both the softgels and essential oil blend are available.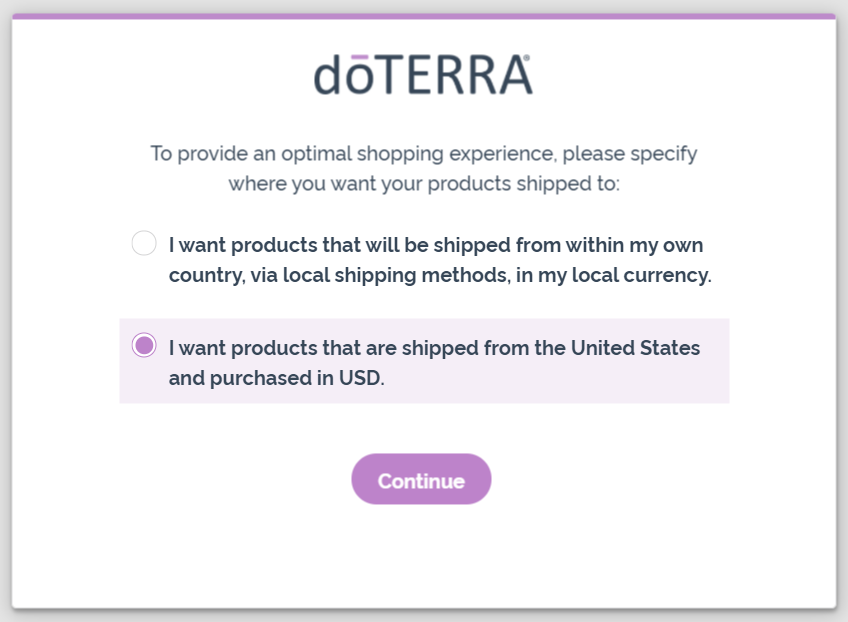 Shopping via the Support Essentials doTERRA online store directly supports Support Essentials. If you buy something through this link, Support Essentials will receive a small commission at no extra cost to you.
Thank you for supporting Support Essentials.