The Source of doTERRA's Bergamot Essential Oil
Bergamot essential oil is derived from the fruit of the Bergamot Orange tree. Bergamot fruit is grown primarily in Reggio di Calabria, Italy where it thrives in the fresh sea-air and acidic soil.
Bergamot is a unique and delicate citrus plant. When turned into an oil it has a calming effect on the body and mind, which is why Italians have used it for years to reduce feelings of stress.
In one of doTERRA's Co-Impact Sourcing® locations, Bergamot fruit is harvested by Italian families who have owned Bergamot orchards for generations and cold pressed to produce doTERRA's potent Bergamot essential oil.
It is available in a 15ml bottle with dripolator for everyday use. Bergamot essential oil is best used aromatically, but it can also be used topically and for flavouring use with proper safety precautions.
It blends well with Lavender, Patchouli, Lime and Arborvitae.
---
New here?  You might also be interested in reading our FREE guide:
USING ESSENTIAL OILS IN YOUR NEURODIVERSE HOME
Including the following chapters:
1: A Basic Introduction to Essential Oils
2: How Essential Oils Support Neurodivergent People
3: The Essential Oils to Use and Why
4: How to Purchase Essential Oils + What to Buy
---
The Chemistry of doTERRA's Bergamot Essential Oil
Main Chemical Components: Limonene, linalyl acetate
As an oil in the citrus family, Bergamot oil includes the chemical component Limonene, which is commonly known for its uplifting aromatic characteristics.
However, Bergamot is unique among citrus oils due to its ability to be both calming and uplifting.
When diffused, the elevating chemical components can help high stress levels and have a calming effect on the body and mind.
You can read more about Bergamot essential oil's main chemical components, limonene and linalyl acetate in The doTERRA Essential Oil Chemistry Handbook.
Bergamot Essential Oil Benefits
If you've ever had a relaxing cup of Earl Grey tea you will probably recognise the comforting scent of Bergamot essential oil.
Much more potent than a tea, Bergamot essential oil also has the ability to put you at ease and can also offer the following benefits:
Health & Wellbeing – Bergamot Essential Oil has been used traditionally in aromatherapy and massage therapy to support emotional well-being and reduce symptoms of stress.
Calming & Grounding – diffuse Bergamot essential oil in the classroom, at work, or at home for a calming effect.
Rest & Relaxation – Apply Bergamot essential oil to your feet before bedtime and enjoy a sense of calm and harmony as you leave the cares of your day behind.
Mood Management – While in the shower, apply Bergamot essential oil to your skin and inhale deeply to experience the uplifting aroma
---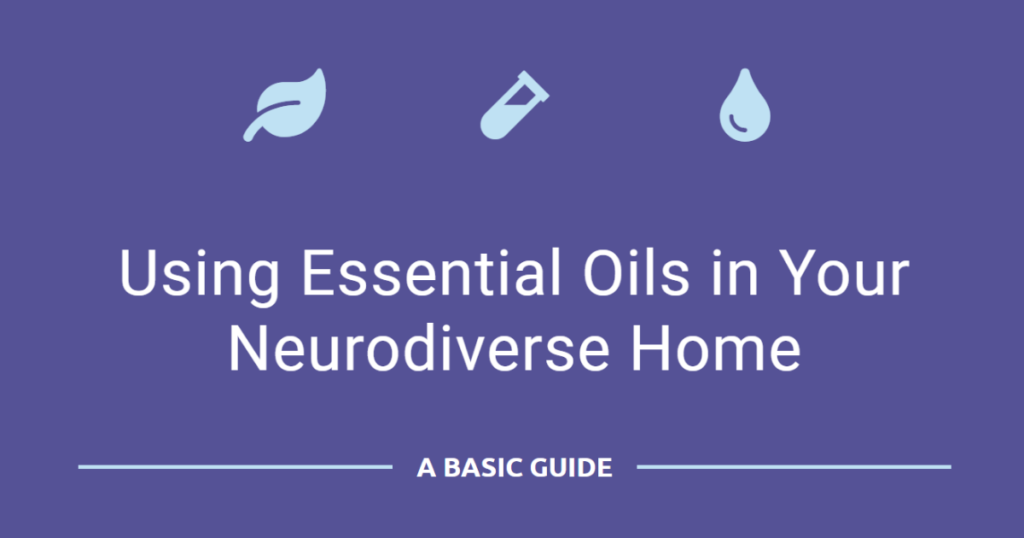 Want to get started using essential oils in your home? Read our FREE guide!
---
How to Use Bergamot Essential Oil
Essential oils can be used aromatically (inhaled through the nose), topically (on the skin) or to flavour food and beverages. Here are some suggestions for how you can use doTERRA Bergamot essential oil in your neurodiverse home:
Aromatically
Add 5 drops to a vaporiser or a bowl of hot water and inhale deeply.
Add a few drops to your child's shirt collar so they can inhale it throughout the day.
Diffuse Bergamot essential oil in the classroom, at work, or at home for a calming effect.
Don't have a diffuser? Add a few drops to a tissue and hold it close to your nose (not touching) to inhale.
While in the shower, apply a few drops to an aromatherapy shower melt for an uplifting aroma
Topically
Dilute and apply to bottoms of feet at bedtime to help unwind before going to sleep.
Add to a carrier oil such as Fractionated Coconut Oil and use as a massage oil.
CAUTION: Using Bergamot essential oil topically can lead to a phototoxic or photosensitive reaction. Avoidance of sunlight to the area applied is recommended for up to 12 hours after use.
Flavouring Use
Bergamot Essential Oil Infographic
Keep all of our information about doTERRA's Bergamot essential oil close with this handy info graphic.
Plus you can download our printable PDF by clicking the button below.
How to Buy doTERRA Bergamot Essential Oil
The good news is that as a doTERRA Wellness Advocate and agent, you can purchase doTERRA essential oils right here from Support Essentials.
doTERRA essential oils purchased from Support Essentials ship directly from doTERRA themselves.
Visit the Support Essentials doTERRA online store and select SHOP from the menu. You will need to select your language and country to start shopping.
Use the search function to find 'Bergamot' or browse Home / Essential Oils / Single Oils.
Shopping via the Support Essentials doTERRA online store directly supports Support Essentials. If you buy something through this link, Support Essentials will receive a small commission at no extra cost to you.
Thank you for supporting Support Essentials.
Bergamot Essential Oil Diffuser Blends
Try these diffuser blends using Bergamot essential oil.
---
Have you checked out our printable doTERRA essential oils blend index yet >>> FREE doTERRA Blend Index
---
Using Essential Oils in Your Neurodiverse Home >>> FREE GUIDE