The perfect essential oil blend for a relaxing massage.
AromaTouch is the name of dōTERRA's proprietary massage blend. It combines the unique benefits of oils known to provide relaxing and comforting effects.
It is available in a 15ml bottle with dripolator for everyday use. AromaTouch® can be used aromatically, or topically with a carrier oil.
doTERRA have named AromaTouch their 'Massage Blend' because it is a vital part of the dōTERRA AromaTouch Technique, a proprietary method for applying essential oils to produce a profound whole-body experience.
You may be wondering how an essential oil blend designed specifically for massage could benefit the neurodiverse population (especially when some of those people dislike being touched).
Well, one of the primary benefits of this essential oil blend is its ability to comfort, soothe and relax a person, while also being invigorating. You don't have to use it solely for massage, it can be used in may different ways. This makes it a very supportive addition to your neurodiverse home.
---
New here?  You might also be interested in reading our FREE guide:
USING ESSENTIAL OILS IN YOUR NEURODIVERSE HOME
Including the following chapters:
1: A Basic Introduction to Essential Oils
2: How Essential Oils Support Neurodivergent People
3: The Essential Oils to Use and Why
4: How to Purchase Essential Oils + What to Buy
---
AromaTouch Ingredients
Cypress Essential Oil – Steam distilled from the leaves of the Cypress tree. Cypress's scent is invigorating and uplifting to enliven the senses.
Peppermint Essential Oil – Steam distilled from the leaves and stem of the Peppermint plant. Peppermint's clear, crisp scent promotes an uplifted, cheery feeling.
Marjoram Essential Oil – Steam distilled from the leaves of marjoram plants. Marjoram essential oil is valued for its positive, calming aroma.
Basil Essential Oil – Steam distilled from the leaves of a Basil plant. Basil essential oil provides a sense of alertness and feelings of calmness when diffused (great for focus!).
Grapefruit Essential Oil – Cold pressed from the peel of the Grapefruit. Grapefruit is known for its energising, invigorating and uplifting aroma.
Lavender Essential Oil – Steam distilled from lavender flowers. Lavender promotes calm, relaxed feelings.
---
AromaTouch Benefits
This popular blend is a vital part of the dōTERRA AromaTouch Technique, an aromatic experience for applying essential oils to the whole-body
I've also tagged it with the following essential oil support categories for neurodiversity to show how AromaTouch Massage Blend can best support you and your neurodiverse home:
Rest & Relaxation – Apply to the neck or shoulders with a carrier oil to promote feelings of relaxation or comfort.
Mood Management – Make yourself up a roller bottle and use daily on bottoms of feet for mood management support. Add to homemade bath bombs or bath salts and use weekly in the bath.
Staying Focussed – Diffuse while children are completing homework to help with grounding and focus.
---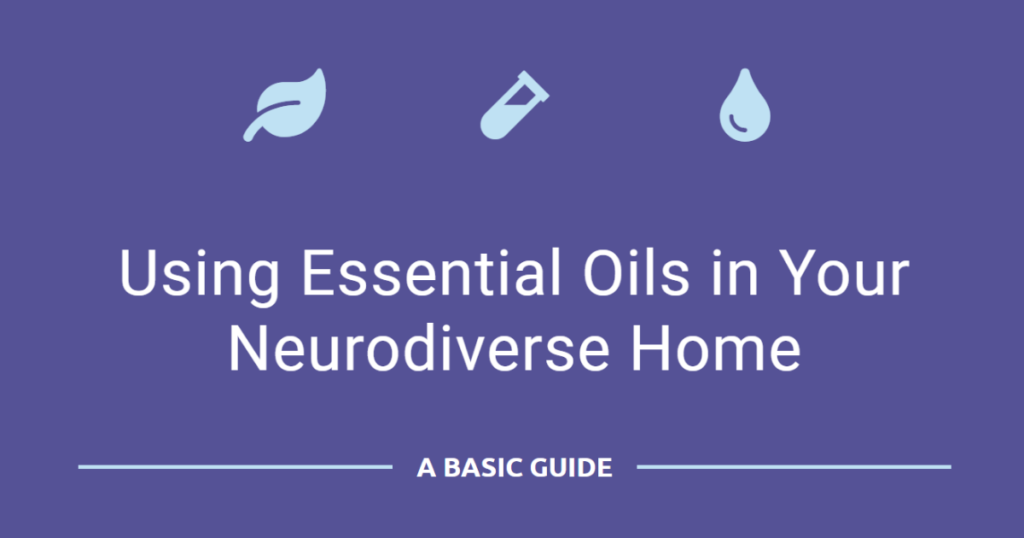 Want to get started using essential oils in your home? Read our FREE guide!
---
How to use doTERRA AromaTouch Massage Blend
Essential oils can be used topically (on the skin) or aromatically (inhaled through the nose). Here are some suggestions for how you can use the doTERRA AromaTouch Massage Blend in your special needs home:
Aromatically
Diffuse it with an essential oil diffuser or diffuser jewellery.
Add it to liquid hand soap, shampoo or bodywash so your child can inhale it while they wash their hands or have a bath/shower.
Add a few drops to your child's shirt collar so they can inhale it throughout the day.
Add several drops along with some distilled water to a glass spray bottle, shake well, and spritz on to bed sheets and pillows for a calming scent while your child sleeps.
Topically
Add a couple of drops to a teaspoon of carrier oil and rub on to your child's neck and shoulders. You can find full instructions here.
Add a couple of drops to a teaspoon of carrier oil and mix with water beads, shaving cream or play-doh for aromatic sensory play.
Make up a roller bottle or spritzer bottle and apply to wrists or down the spine. You can find full instructions here.
Give a family member an AromaTouch hand massage
Use this blend in the bath by adding it to your favourite bubble bath or bath salts.
Make yourself some Bath Bombs (see recipe below).
AromaTouch Info Graphic
Keep all of our information about doTERRA's AromaTouch Massage Blend close with this handy info graphic.
Plus you can download our printable PDF by clicking the button below.
How to Buy doTERRA AromaTouch Massage Blend
doTERRA essential oils purchased from Support Essentials ship directly from doTERRA themselves.
Visit the Support Essentials doTERRA online store and select SHOP from the menu. You will need to select your language and country to start shopping.
Use the search function to find 'AromaTouch' or browse Home / Essential Oils / Oil Blends.
Shopping via the Support Essentials doTERRA online store directly supports Support Essentials. If you buy something through this link, Support Essentials will receive a small commission at no extra cost to you.
Thank you for supporting Support Essentials.
AromaTouch Bath Bombs
What you need
140g Bi-carb soda (Baking Soda)
70g Citric Acid
4 tsp (20ml) Liquid/Fractionated Coconut Oil
10-20 Drops AromaTouch® Essential Oil Blend
Natural Food Coloring (optional)
Bath Bomb Moulds or Silicone Moulds
Wearing gloves is recommended
Method
Sift the bi-carb soda and citric acid into a bowl and mix well. Add coconut oil, essential oils and coloring (if using). Remember liquid food coloring is moisture so take it easy. Excess moisture will cause your mixture to fizz and puff up and your bath bombs will be ruined.
Use your hands to combine the mixture, rubbing it between your fingers to evenly disperse the wet ingredients. You'll know your mixture is ready when it sticks together/packs down and can keep its shape. It will still look kind of dry, but if you take a handful of the mixture and squeeze it, it should pack easily into a ball. If your mixture is too dry add a few more drops of coconut oil and mix again.
Once you get the correct consistency, begin to fill your moulds, pushing down the mixture into the mould and compacting it into place. Compaction is an important step as it may mean the difference between hard or crumbly bath bombs once they are dry. When using silicone moulds however, be sure not to push down so hard that the mould becomes misshapen.
Set the bath bombs aside to air dry for 24-72 hours. If humidity is high at the time you make your bath bombs (as it was for me), consider drying your bath bombs in the oven on the lowest setting with the fan on for an hour or so. When sufficiently dry, your bath bombs should release from your mould fairly easily, if they are still wet, they will not fall out with ease. Store your bath bombs in a plastic zip-lock bag immediately.
Drop 2-3 bath bombs into a bath, or 1 into a bucket of water or foot spa for a foot soak.
Enjoy!
Have you checked out our printable doTERRA essential oils blend index yet >>> FREE doTERRA Blend Index
---
Using Essential Oils in Your Neurodiverse Home >>> FREE GUIDE